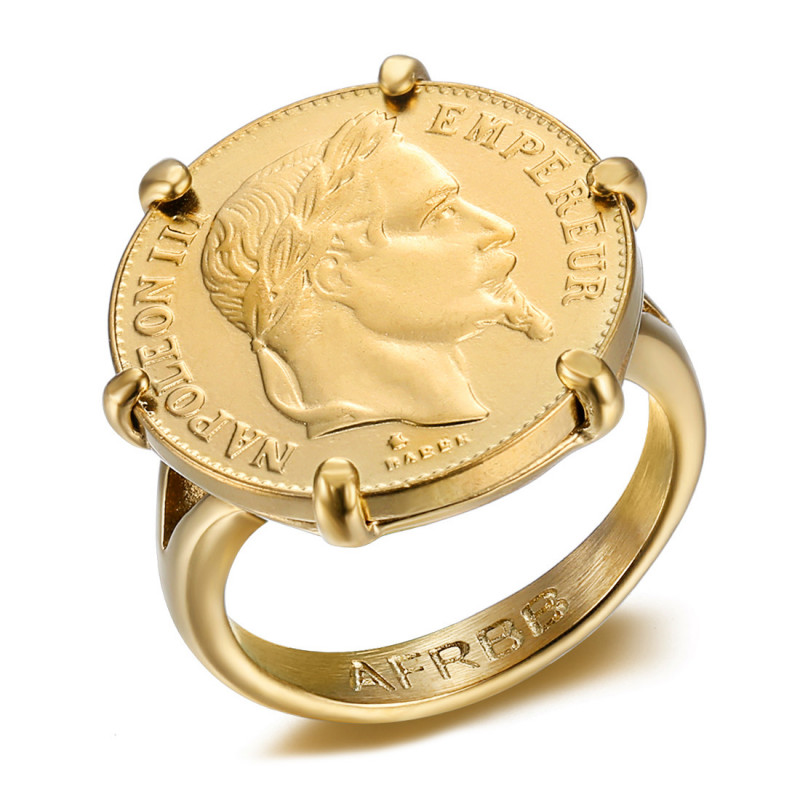 
Ring Signet Ring Set Coin 20 Francs Napoleon Louis Gold
Ring Signet Ring Of Napoleon Set 6 Claws-Plated Coin 20 Francs Gilded Gold Louis Woman Man Steel 316
We go up in range with this new ring Napoleon 6 claws for a woman or a man, always in 316L stainless steel.

We have reproduced the napoleon gold (or Louis) with a quality and detail suprenants.
The piece is set with 6 claws on a gorgeous ring full.

The set is made of stainless steel 316L, gold (gold plated, 2 microns).

Diameter : 21mm (like the real one !).
Weight of the ring : 16gr

You have always dreamed of this jewel inaccessible that can be found traditionally, and only in solid gold ?
ANGELYK has done for you at a price dramatically and in direct manufacturing !

This jewellery is therefore sold exclusively for us ! Do not look elsewhere, you will not find it...

Price wholesaler, please contact us to become our partner and sell our products.

Our steel is guaranteed to withstand water, fragrance, sea water, chlorine from the swimming pool, etc...
It is almost indestructible, and it meets the French and european standards.
 
This ring will be shipped in a pouch microfiber.

Quality jewelry
Satisfied or refunded 30 days
VAT invoice
French company based in the Herault (34)

That means the registration AFRBB ?
It is an acronym, and a distinctive engraved on the inside of the molds of our jewelry, these letters correspond to our intiales :
Was as Angelic
F as in Frank
R as the Romanesque
B as Baptist
B as in Biscuit
This logo is a quality assurance for you and an indelible imprint on our creations.